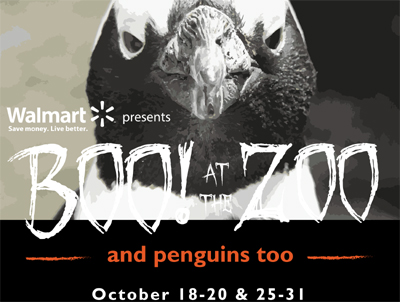 Enjoy a safe Halloween with fun for the entire family! Dress up or come as you are as
hundreds of Jack-O-Lanterns guide you through the spooky treat stations.
Take a ride on the Fright Night Express and the Endangered Species Carousel.

The Gates of Delirium is Central Illinois' most terrifying haunted house. Voted a Top 5 Visitors' Favorite Haunt in 2012. Come see what new shocks and thrills lurk in the darkness in our third year in FEAR!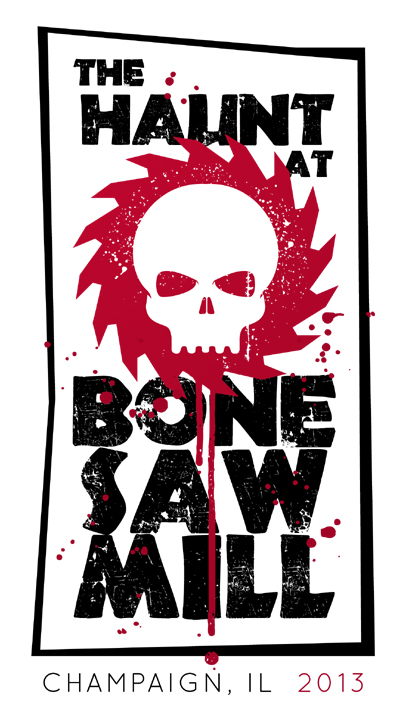 THE HAUNT AT BONE SAW MILL: CHAMPAIGN'S LARGEST AND SCARIEST HAUNTED HOUSE.
LOCATED AT THE THE OLD HUNDMAN LUMBER YARD --
NOW THE NEW FLUID EVENT CENTER... 601 N. COUNTRY FAIR DRIVE.
OPENS FRIDAY THE 18TH OF OCTOBER 2013 AND STAYS OPEN THROUGH NOVEMBER 2ND.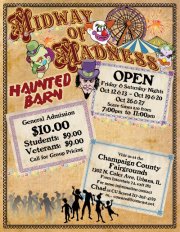 The Haunted Barn at the Champaign County Fairgrounds
is filled with crazy carnies and zombies!
Monsters are taking over the Midway!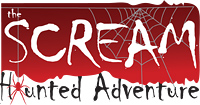 Decatur Celebration and Creatures of the Night have teamed up once again to
produce Decatur's best Halloween attraction,
The Scream Haunted Adventure on West Eldorado in Decatur!