125 West Main Street
Urbana, IL 61801
217-607-1292
At West Main Dental, we provide patients of all ages with exceptional and compassionate dental care in our beautiful new office. From routine cleanings and checkups to life-changing smile makeovers, Dr. Cusack and our team can help you achieve the healthy, attractive smile you have always imagined.
We have equipped our office with advanced technology and family-friendly amenities, such as flat screen TVs in every treatment room, internet access, massaging dental chairs, warm towels, and a treasure chest of prizes for our younger patients. Combined with our friendly team, flexible financial options, and convenient extended hours, our practice has truly been designed with your family in mind.
Got a question? Ask Dr. Michael Cusack, DMD
Click here to submit your question!
---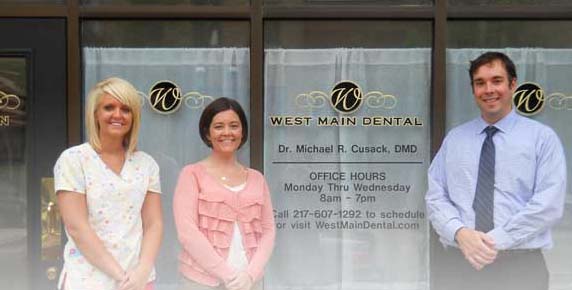 Clean and Safe Practice
We go above and beyond the American Dental Association (ADA) and OSHA recommended standards for a clean and safe dental practice. Before your visit, we disinfect all of our equipment in a designated area with state-of-the-art dental sterilization technology. We also sanitize each room between patients—all because your safety and comfort are our top priority. We worry about the cleanliness of our office so you'll never have to.
Kid-Friendly Dentistry
We understand that many children feel scared or uneasy about dental visits, and we always treat our younger patients with extra sensitivity and care. Our friendly and gentle manner will help your child feel at ease in our care, and having a positive dental experience during childhood can encourage a lifetime of good oral habits. We strive to make your child's dental visits comfortable, comprehensive, and most of all, fun!
---
West Main Dental Team